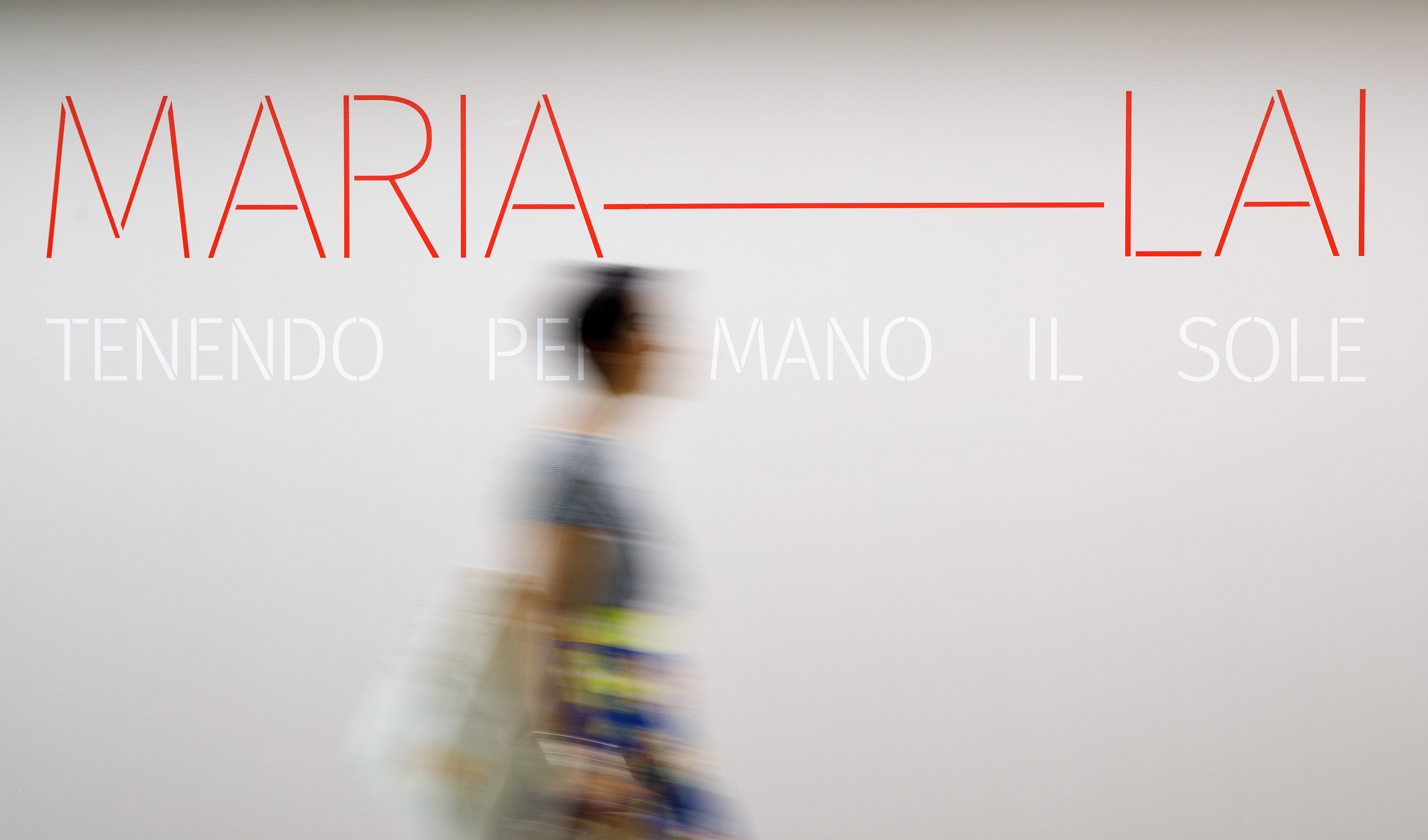 The exhibition 
Maria Lai. Tenendo per mano il sole
 curated by Bartolomeo Pietromarchi and Luigia Lonardelli, in collaboration with Archivio Maria Lai and Fondazione Stazione dell'Arte. 
MAXXI National Museum of 21st Century Arts, Rome, 19 June 2019 — 12 January 2010
La mostra
Maria Lai. Tenendo per mano il sole. 
A cura di Bartolomeo Pietromarchi e Luigia Lonardelli. 
In collaborazione con l'Archivio Maria Lai e con la Fondazione Stazione dell'Arte. 
MAXXI museo nazionale delle arti del XXI secolo, Roma, 19 giugno 2019 — 12 gennaio 2010
I developed the design based on the following concepts: 
• Rhythm • Repetition • Geomethry • Sign • Sewn sign • Formal simplicity • Immediate communication • Weaving • Game • Local tradition • Universal code.
The aim of the design was to capture and evoke the visual code of Maria Lai's art.
I decided to have the glyph
em-Dash
function as the project's throughline, literally and figuratively: the dash extends across and weaves together the various texts and signs of the exhibition.
Per lo sviluppo dell'idea di progetto ho considerato i seguenti concetti:
• Ritmo • Ripetizione • Geometria • Segno • Segno cucito • Semplicità formale • Comunicazione immediata • Tessitura • Gioco • Tradizione locale • Codice globale.
Nel tentativo di creare un
codice visivo evocativo
ho individuato una font molto essenziale, poco contrastata, fornita di un'ampia gamma di pesi e che permette di avere alta leggibilità, chiarezza visiva e di sviluppare un sistema che accompagni allo svolgimento della mostra senza diventarne protagonista.
Ho identificato nel simbolo tipografico
em-Dash
il "filo conduttore" del percorso espositivo che si svolge e si declina nei vari artefatti grafici: un segno che diventa linguaggio e ritma l'esposizione.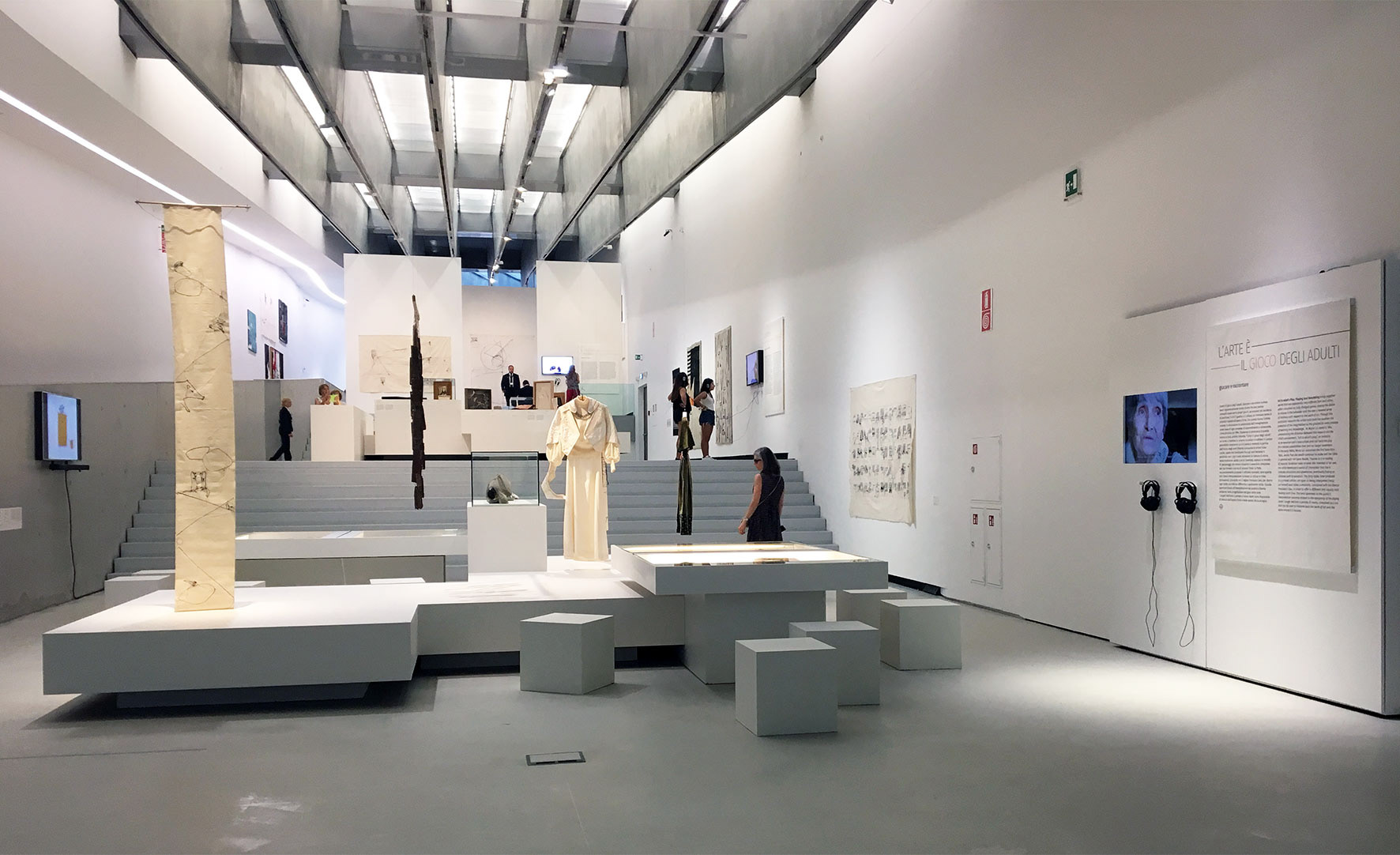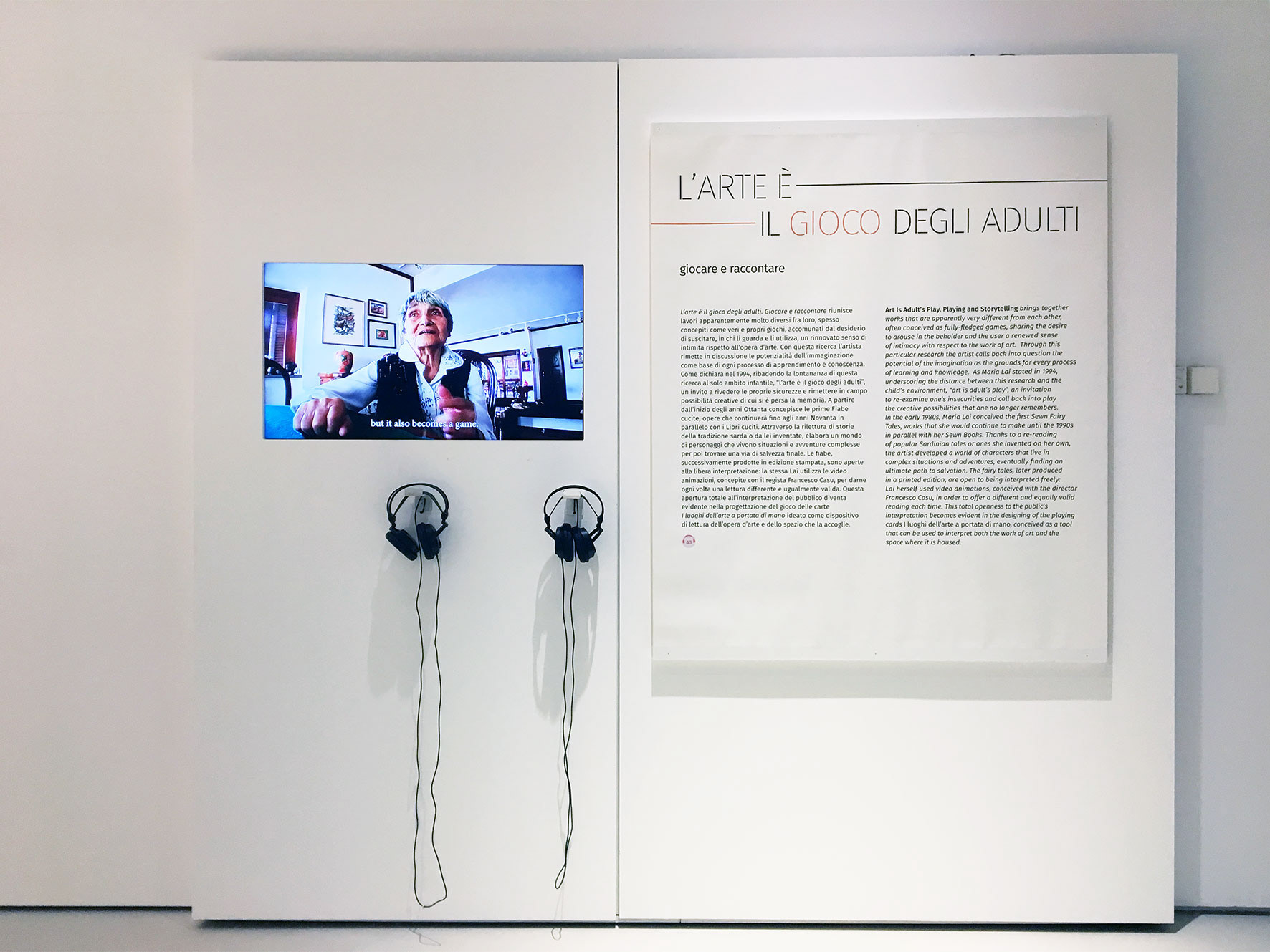 The exhibition is articulated in five thematic sections — 
To Be Is to Weave. Sewing and Mending; Art Is Adult's Play. Playing and Storytelling; Landscape Object. Spreading and Sharing; The Astral Traveller. Imagining the Elsewhere; Art Takes Us by the Hand. Meeting and Participating 
— and in a biographical section that visualizes the life of Maria Lai in a graphic journey 40 meters long.
La mostra è articolata in cinque sezioni tematiche — 
Essere è tessere. Cucire e ricucire; L'arte è il gioco degli adulti. Giocare e raccontare; Oggetto paesaggio. Disseminare e condividere; Il viaggiatore astrale. Immaginare l'altrove; L'arte ci prende per mano. Incontrare e partecipare
— e una sezione biografica che visualizza la vita di Maria Lai in un percorso grafico lungo 40 m.